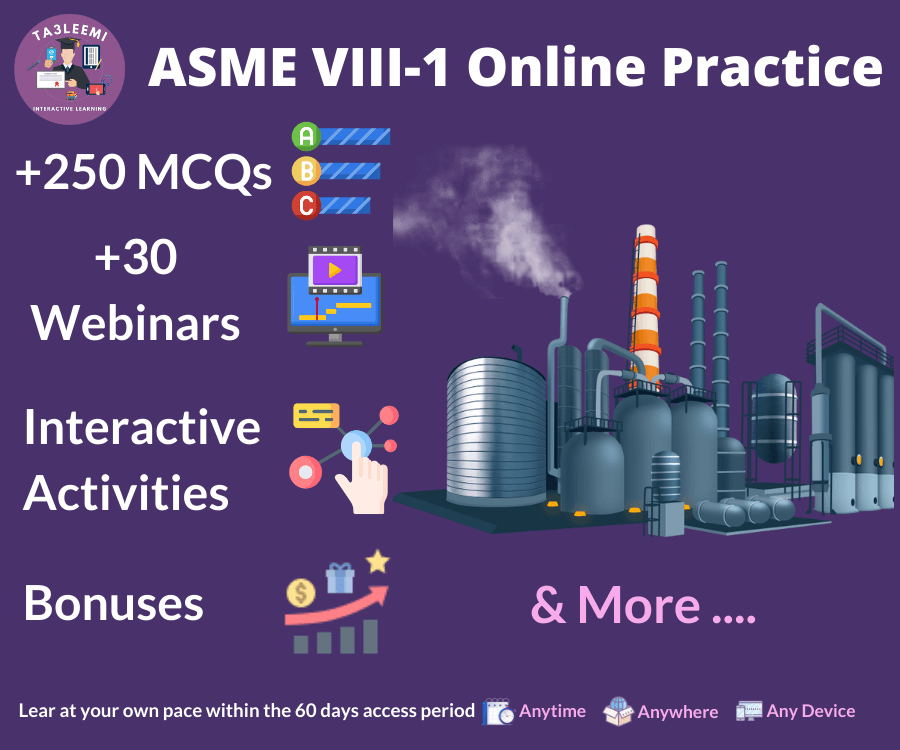 CATEGORY: ASME Codes
ASME BPV Code, Section VIII, Division 1: Pressure Vessel
Course Access: 60 days access
Course Overview
As an engineering professional working with pressure equipment, you need to master code essential information through practice.
This course is a self-paced one designed to provide attendees with the key considerations, skills, and competencies to excel as pressure vessel engineering professionals.
By subscribing to this course you will be provided immediately with:
Immediate access to questions' bank that can be accessed online any time, anywhere, and through any device.
Enjoyable Interactive learning content.
List of online tools and resources that you can use at work to enhance your productivity.
---
Who should subscribe to this course
API 510 Individual Certification Programs (ICP) Applicants who are preparing for the Exam
Inspectors & design engineers who are willing to enhance their productivity and easily recall essential daily used code information
Design Engineers who review drawings and perform calculations according to the ASME code
Professionals preparing for technical interviews
Professionals in transition between jobs and want to retain essential code information
Manufacturer of equipment according to the ASME code
Fresh graduates who want to know more about the ASME code
Any ASME code user